Event 1. Exchange for Resources at Mall!
Dear players,
When you spend 100 gold, you will get a bond that can be exchanged for many wonderful rewards. This time, we add new item
Treasure box
and resource
Ordnance
in mall. You will be surprised by them! Open treasure box, you will get random Hero A.fragment or rare resource! It is worthy and easy! Don't miss it!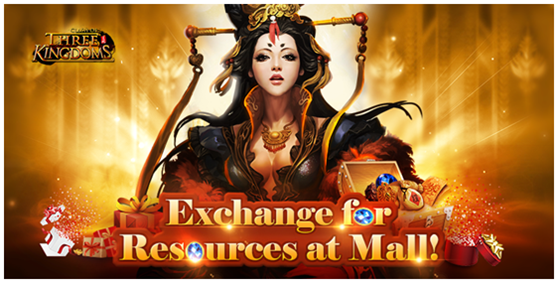 Time:
Oct.2nd (GMT+8)
Server:
S1 - S82
Details:
During the event, players above Lv. 60 could get 1 bond once spending 100 Gold. The bond can be exchanged for
Treasure box
and tons of
Ordnance, Super Iron, A.Token, Starlight and other resources
at Mall! Do not forget to join it!
Treasure Box:
You'll be rewarded with one of the following resources by opening Treasure Box: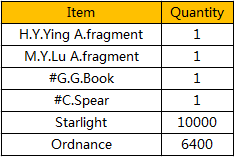 Notes:
1.
Lv. 60
is required to join this event.
2. Click 'events' to find Mall.
3. Some resources have limited number of exchange times.
4. Please use up all your bonds before the event ends. When the event is over, bonds unused will be transferred into resources and sent to you automatically.
1 Bond =Food*200K.
Event 2. Mining! Excellent Resources!
Dear players,
One way to exploit your fortune in Mining Event is that you can capture slaves in the world map. The other way is that you can spend golds to get more slaves, higher mining and richer rewards! This time we put
more resources in every mine
for you. Besides, we also add
Slotted+18 and so much S.Iron in Hidden Treasure
. Believe that you will like them! Come and exploit treasures!
Time:
Oct.2nd (GMT+8)
Server:
S1 - S82
Details:
During this event, slaves captured in the world map can be used as slaves to exploit in the Mining Event. If slaves are not enough, you can add them by spending gold. The superior mine is available only when the inferior is unlocked.
Higher the mine, more slaves and richer rewards
. When all the mine is unlocked, you'll get an mysterious Treasure including
Slotted+18 and so much S.Iron
that will absolutely surprise you.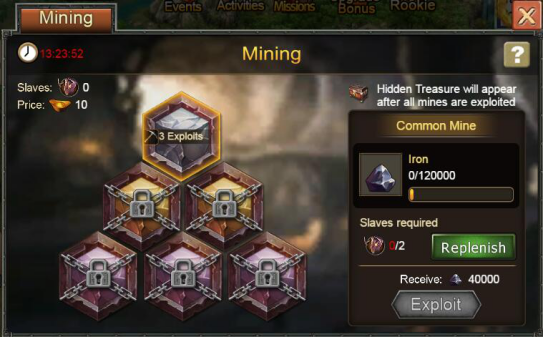 Note:
1.
Lv.80
is required
2.There're several kind of Mines in this event including Common Mine, Rare Mine, Senior Mine, Mysterious Mine
3.Slaves purchased in this event will not be included into the Slaves Camp.
1 slave = 10 gold
4.When the event is over, mines unexploited and slaves will disappear
Event 3. All-Day Limited Sale!
Holiday Discount Rewards!
Dear players,
This time,
Limited Sale has a entirely new change.
We change from the original half day to the present full day.
You can purchase these high-quality resources to your heart's content. The Event has more resources in every pack like
Starlight and S.Iron.
Now you could click these four packs more times to gain more valuable resources.
New heavy discount
will be granted to faithful players. Let's take the best shortcut to get tons of resources quickly and easily! See you tomorrow!
Time:
Oct.2nd (GMT+8)
Server:
S1 - S82
After entering the game, you will see
"Limited Sale"
in "Events" during event time.
The following packs are available in this event. They are all sold at very low prices. Save Gold for these packs!


Notes:
1. Players should reach
Lv. 70
to join this event.
2. Everyone can only buy limited numbers of the packs.
3. The products will automatically add to your account once bought.
Event 4. Wishing-Well: Wish and Win
Dear players,
Wishing-well event will offer you a chance to make a wish and get the rewards you want as well as some random gifts. We add new resource—
Ordnance
in event! It will greatly increase your power and help you to upgrade Ordnance quickly for your troops! What's more, random gifts are richer than before. What are you waiting for! Come and make wishes!
Time:
Oct.2nd (GMT+8)
Server:
S1 - S82
Details:
During the event, players above
Lv. 60
can join the event and get
Iron, Soul, Starlight
and other resources. Each time you make a wish, you can get
random rewards
as well as abundant resources
Extra bonus could be claimed after you wish for specified number of times.
Extra Bonus (Reset every day):

Notes:
1. Daily Free Chance*1 at 12:00 p.m. (noon).