Event 1. Exchange for Resources at Mall!
When you spend 100 gold, you will get a bond that can be exchanged for many wonderful rewards. It is worthy and easy! Don't miss it!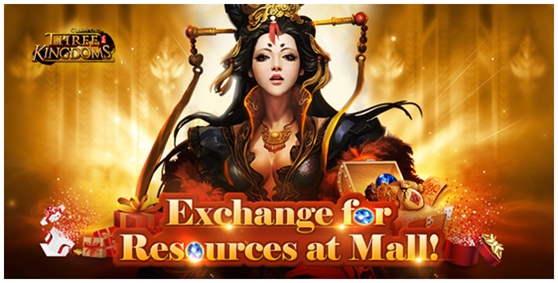 Details:
During the event, players above Lv. 60 could get 1 bond once spending 100 Gold. The bond can be exchanged for tons of
Super Iron, A.Token, Starlight , Monster Soul
and other resources at Mall! Do not forget to join it!
Notes:
1. Lv. 60 is required to join this event.
2. Click 'events' to find Mall.
3. Some resources have limited number of exchange times.
4. Please use up all your bonds before the event ends. When the event is over, bonds unused will be transferred into resources and sent to you automatically. 1 Bond =Food*200K.
Event 2. Bounty Armies, Get more Hero Exp
You must be crazy and eager now. Bounty Armies as a brand-new event is online. In event you can win tons of Exp and assist you to level up your favorite hero quickly. It is time to get the new wine-tool named
Leaf Liquor
in world map by effort! During this event,
the further bounty round players join, the more Leaf Liquor would be consumed in each bounty, also the more hero EXP would be acquired!
So what are you wait for? Come on to join us!

Details:
During the event time, players above (of) Lv. 60 can randomly get wine-
Leaf Liquor
when they fight on World map. After collecting a certain amount of Leaf Liquor, players can bounty heroes who are unlocked in the tavern to win tons of EXP. Of course, the hero can be the recruited one or not.
1.The event totally has 5 rounds, players have 5 times to bounty hero.
In each round the hero EXP can be appeared with Crit
, and the players can acquire one bounty chest when bounty hero one time.
2.As for the bounty chest, player can open it freely, or open it with 2*Crit or 5*Crit by costing golds to win much more rewards. After ending the one bounty round, players can claim the round rewards, then will automatically take participate in the next round.
Notes:
1. Lv. 60 is needed to join this event.
2.
The number max of leaf liquor which can gain is 1000 in country war.
Players can cost
2 golds to get 1 leaf liquor
if it not enough to bounty.
3.The probability to get a leaf liquor by killing enemies: 70%
4.The hero's exp which reaches the max can not be bounty.
5.Players need to claim the bounty chests during the event. When the event ends, chests will disappear.
When this event ends, Leaf Liquor unused will be converted into food automatically and send to your account.
One Leaf Liquor = 50K Food.
Event 3. Mining! Excellent Resources!
One way to exploit your fortune in Mining Event is that you can capture slaves in the world map. The other way is that you can spend golds to get more slaves, higher mining and richer rewards! This time we put
more resources in every mine
for you. Besides, we also add
Lantern+21 and so much Voucher in Hidden Treasure.
You can get one whole Trinket.
More Voucher
can help you buy more other resource at mall. Therefore, you will get better attributes by other resources. Believe that you will like them! Come and exploit treasures!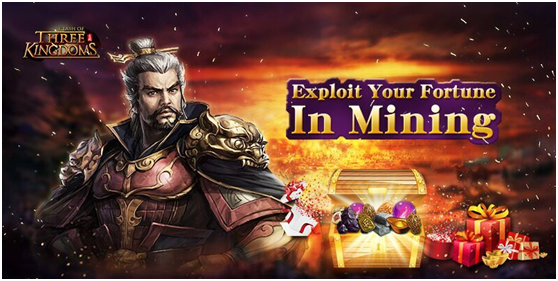 Details:
During this event, slaves captured in the world map can be used as slaves to exploit in the Mining Event. If slaves are not enough, you can add them by spending gold. The superior mine is available only when the inferior is unlocked.
Higher the mine, more slaves and richer rewards.
When all the mine is unlocked, you'll get an mysterious Treasure including
Lantern+21 and so much Voucher that will absolutely surprise you.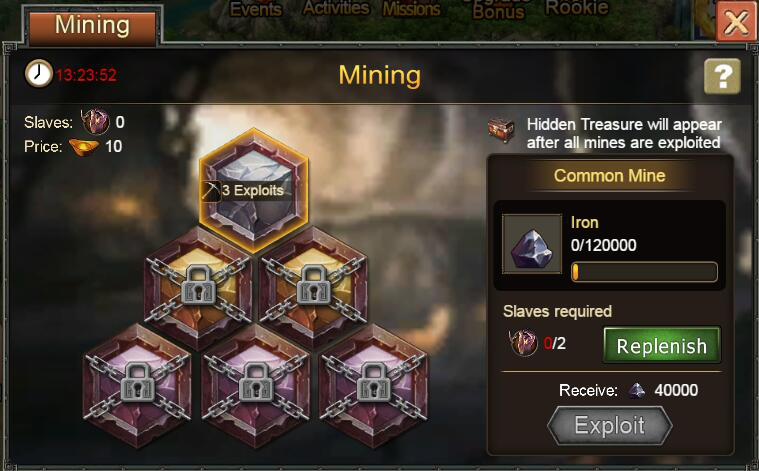 Note:
1. Lv.80 is required
2.There're several kind of Mines in this event including Common Mine, Rare Mine, Senior Mine, Mysterious Mine
3.Slaves purchased in this event will not be included into the Slaves Camp.
1 slave = 10 gold
4.When the event is over, mines unexploited and slaves will disappear
Event 4. Wooden Ox
The brand-new Wooden Ox event will meet with you finally. Players can gain rich resources including tons of food, recruit orders, S.Iron and so on from event,
as the same time, you also have a chance to get multiple rewards.
All players can have a carnival together around the whole country. Take action quickly! Don't miss it!
Time:
Mar.20th 9:00 - 23:59 (GMT+8)
Details:
1. During the event, players kill enemies in country war to gain Merit which is counted by a certain proportion of player's kills numbers. When merit progress reaches the full requirement, the 30 minutes funds distribution stage will be opened.
2. During the stage in funds distribution, players can click "wooden ox"rewards to get abundant rewards, such as tons of food, recruit orders, S.Iron and so on.
3. After claiming three wooden ox's rewards, players can freely claim one round rewards, then players can continue to claim rewards by costing golds. The event has three rounds for players' participation, and the rounds rewards are different in each round, meanwhile,
players have the chance to win all the wooden ox rewards and rounds rewards with 2*Crit, 4*Crit and 10*Crit.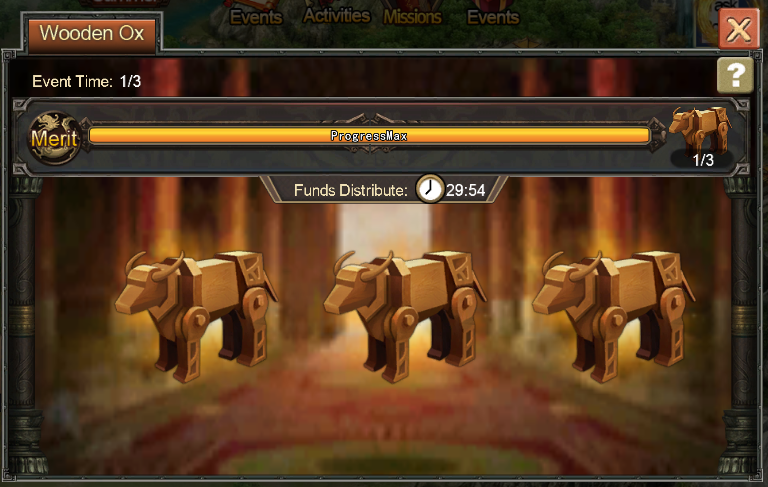 Notes:
1. Lv. 60 is required to join this event.
2. During the stage in funds distribution, killing enemies can't gain and add Merit.
3. You need to claim rewards manually before the end of funds distribution.
4. When funds distribution ends, unclaimed reward will be cleared.
Event 5. Lucky Spin! Time-Limited, Mass Resources
Our New event is coming! Absolutely surprising you! There is a chance to get multiple rewards. It is necessary for your heroes to increase stamina. Come on and Wish you good luck.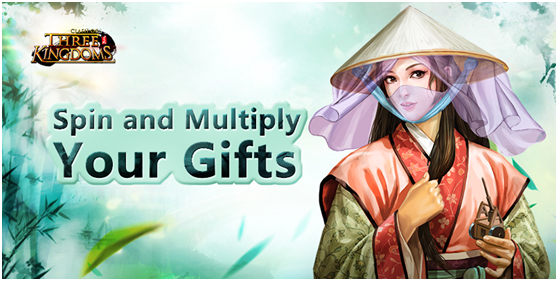 Time:
Mar.20th - Mar.21st 23:58 (GMT+8)
Details:
The wheel are composed by two parts which are the inside and outside.
The inside part includes various quantity of resources while the outside are the multiples. The highest multiple is 10 times. What's more,
>>
Start
- Spend
50 Gold
to roll the wheel. Gold will be deducted the moment you click start button and you can also choose to spend 10X to get 10 rewards.
>>
Claim
-
Claim the rewards you get.
Claiming does not cost Gold.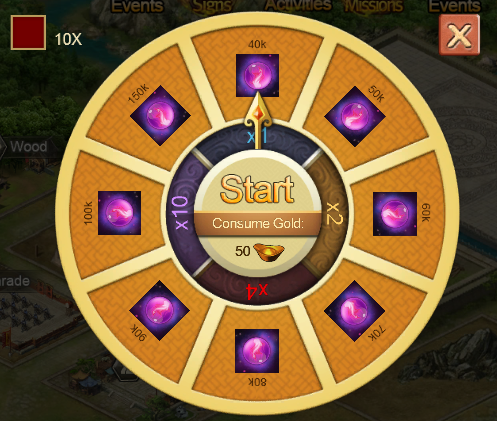 Note:
1. Lv.70 is required
2. Rewards unclaimed till the end of the event will be returned to you.