Event 1. Catch M.Huo for Rewards
Dear players,
Catch M.Huo to get excellent resources. This time, you can actively launch
duel, shadow or kill in world map
. In addition, tons of food can offer your heroes more stamina. More surprise when you choose to banquet release.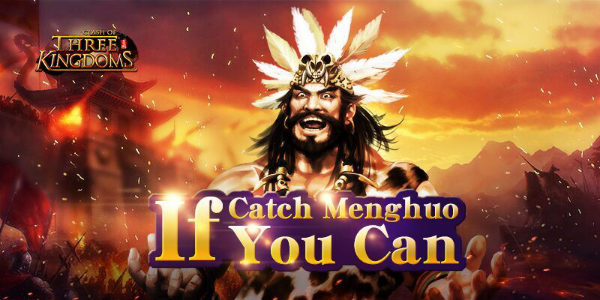 Time:
Apr.
23rd

(GMT+8)
Server:
S1 - S100
Details:
During the event, players above
lv.60
can join the event and launch
Duel, Shadow, Kill in the world map
. When all the 3 requirements are reached, you'll have the chance to catch M.Huo once and get excellent resources. What's more,
extra rewards will be available if you choose to Banquet release.
Note:
1. Kills collected in Arena, Trial Tower, Crusade, Biography, Instance, Server Events are excluded
2. If the number of Duel, Shadow, Kills exceeded in the previous round, it will be then calculated to the next round
3. Rewards unclaimed till the end of this event will be sent to you
Event 2. Wooden Ox
Dear players,
The brand-new Wooden Ox event will meet with you finally. Players can gain rich resources including tons of food, recruit orders, S.Iron and so on from event,
as the same time, you also have a chance to get multiple rewards.
All players can have a carnival together around the whole country. Take action quickly! Don't miss it!

Time:
Apr.
23rd

9:00 - 23:59 (GMT+8)
Server:
S1 - S100
Details:
1. During the event, players kill enemies in country war to gain Merit which is counted by a certain proportion of player's kills numbers. When merit progress reaches the full requirement, the 30 minutes funds distribution stage will be opened.
2. During the stage in funds distribution, players can click "wooden ox"rewards to get abundant rewards, such as tons of food, recruit orders, S.Iron and so on.
3. After claiming three wooden ox's rewards, players can freely claim one round rewards, then players can continue to claim rewards by costing golds. The event has three rounds for players' participation, and the rounds rewards are different in each round, meanwhile,
players have the chance to win all the wooden ox rewards and rounds rewards with 2*Crit, 4*Crit and 10*Crit.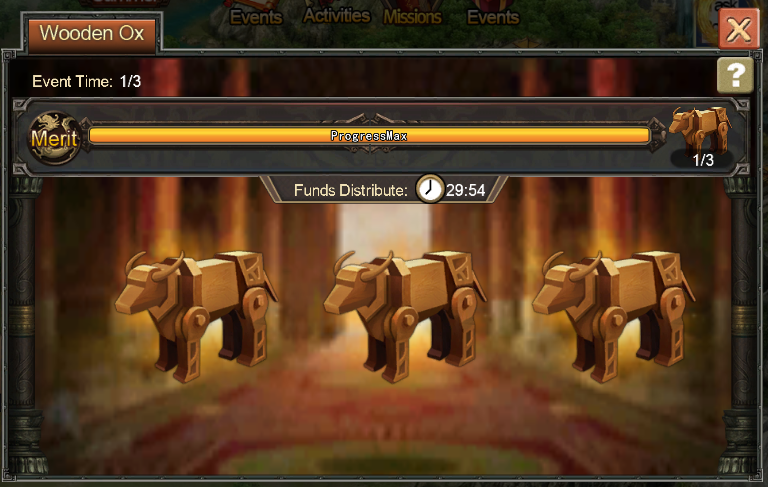 Notes:
1.
Lv. 60 is required to join this event.
2. During the stage in funds distribution, killing enemies can't gain and add Merit.
3. You need to claim rewards manually before the end of funds distribution.
4. When funds distribution ends, unclaimed reward will be cleared.
Event 3. Draw Rare Purple Liegeman!
Dear players,
Do you want gain more Liegemen? The brand-new event is coming, you can get the Liege Bags only if you spend gold on summon in game. And there are different liegemen in each kind Liege Bag. Besides, you can exchange abundant resources and rare liegemen such as

Z.G.Liang, Lv Bu, S.M.Yi, Zhou Yu

by accumulating points in

Reward Points

.

You will be surprised by them! Come and draw liegemen!
Time:

Apr.23rd (GMT+8)


Server:

S1 - S100


Details:


During this event,

players above Lv.60 could get 1 tally once spending 200 Gold on summon.

The tally can be used for drawing Liege Bags. Wei Liege Bag, Shu Liege Bag and Wu Liege Bag which need cost 1 tally.

Elite Liege Bag need cost 7 tally.

And clicking " Liege Bag" can know Liegemen cards in Bags.

Using 1 tally can gain 80 points.

Players can exchange abundant resources and rare purple liegemen when points reach certain amount.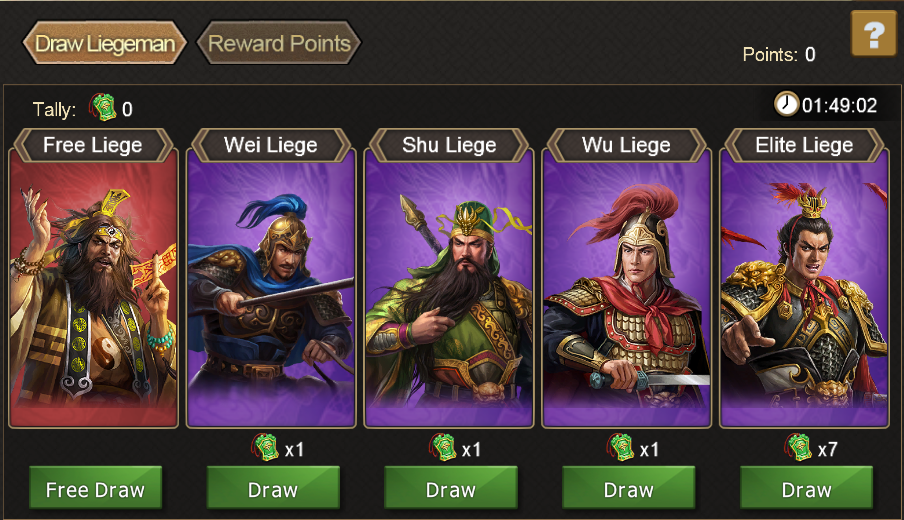 Notes:
1.Players can't gain tally when using Summon Order.
2.Free Chance*1 for Free Liege Bag every 4 hours, each time can gain 20 point.
3.Players can only claim one time rewards on the Reward Points Interface.
4.Please use up all your tally before the event ends. When the event is over, tally unused will be transferred into resources and sent to you automatically.

1 Tally=Food*100K.
5.All points rewards should be claimed before this event ends. If any of them remain unclaimed after the event, they'll disappear automatically when the event ends.
Event 4. Duel for Resources
Dear players,
Come and fight in world map! You will get tons of food when you win duels. Let's launch duels quickly!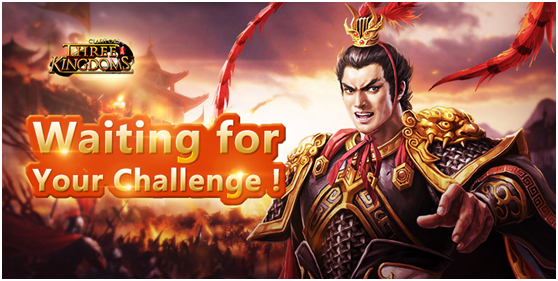 Time:
Apr.23rd - Apr.24th (GMT+8)
Server:
S1 - S100
Cities on world map are waiting for you! Warriors, let's fight together!
If you win
duels (Strike or Lure) for specified times
in this event, you will get big rewards!
Rewards: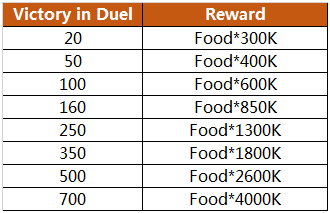 Notes:
1. Duel in server competition is not included.
2. Please go to 'Events' in game and join the event.
3. Only when you win duels for specified times will you be rewarded.
4. When you reach one requirement, you can claim the corresponding rewards