Event 1. God Summon, Heroes Gotten
Dear players,
The brand-new event comes now, you can get heroes when summon in this event, also the basic rewards and random rewards are coming the summon. This time you can get
M.Huo Card, S.Jing Card and Awakened S.Jing
in this event.
Join and Get the rare heroes now!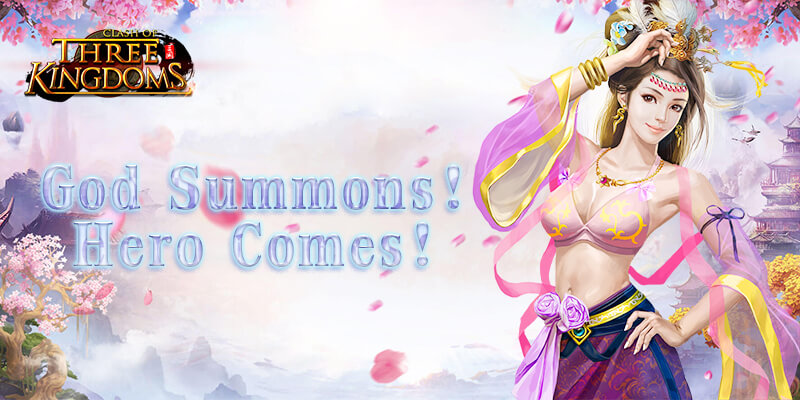 Time:
Maintenance completed Jun.6th (GMT+8)
Server:
S1 - S101
Details:
During the event, players above
Lv.60
can open
"Events"
button and join brand-new
God Summon event
, player you should summon the here by spending golds, and summon once should spend 50 golds.
1.The event totally has
3 rounds
now, players can summon the hero once by spending 50 golds .
then you can get basic rewards (basic rewards in the
3 rounds
are different, first basic round's reward is
15K Soul
when you summon once; second basic round's reward is
500 starlight
when you summon once; third basic round's reward is
500 Monster Soul
when you summon once). Meanwhile, you can get
random rewards
such as S.Iron, Voucher, Shadow Order, LV.1GEM, RO, Food and so on when you summon once.
2.As for summon hero, the progress of summon hero will be added with 1*Crit or 2*Crit or 4*Crit when players summon once. When the progress of summon is full , players can claim the current round's rewards.

Note:
1.
System will give you 1 summon time at 12:00 every day.
2.If players you have owned the rewards of current rounds, when the progress is full , you can claim the replaced rewards, the rounds rewards and the replaced rewards all can be viewed in the event interface.
3.When this event ends, unclaimed hero can be converted into the replaced rewards automatically and send to your account!
Event 2. Limited Sale
Dear players,
Please focus on Limited Sale this time. The Event has more wonderful upgrade. Now you could click these four packs more times and there are more valuable resources and more discount. Let's take the best shortcut to get tons of resources quickly and easily! See you tomorrow!
Time:
Jun.6th 18:00 - 23:59 (GMT+8)
Server:
S1 - S101
Details:
After entering the game, you will see
"Limited Sale"
in "Events" during event time.
The following packs are available in this event. They are all sold at very low prices. Save Gold for these packs!

Notes:
1. Players should reach
Lv. 70
to join this event.
2. Everyone can only buy limited numbers of the packs.
3. The products will automatically add to your account once bought.