New Version Will Be Released!Please Expecting!
Lord and ladies, our new version will be released tomorrow. It will last for about two and half hours from 12:30 on Sept.3rd 2020. During that time your connection to the game will be interrupted. Thank you for your patience.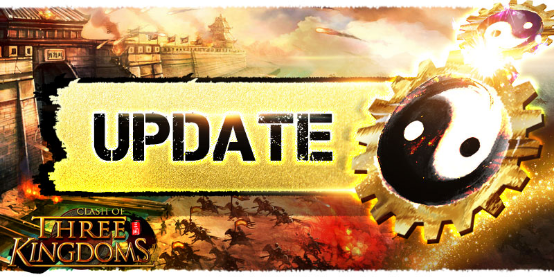 What' s New:
1.New Heroes: Hao Zhao·Reborn, God G.Shun
2.New Star Atlas and Star Skill: Unicorn and Shelter
3.New Suits: TaoWu Suit, YaZi Suit, PiXiu Suit, Guren Suit, Lion Suit and Scud Suit
4.New Country Quest: Xiangyang War
Function Optimization:
1.Transferring Super Pearl trinket skill will not be repeated.
2.Auto Fight function will cancel VIP limit and open automatically when reaching lv.70.
3.Add a second pop-up to confirm when transferring Kismet Skill.
4.Optimize animations that civilians release skills.
Notes:
1. Please update to the new version to experience the new functions.
* Start Time
12:30:00 Thur. Sept.3rd 2020 (GMT+8, Server Time);
21:30:00 Wed. Sept.2nd 2020 (PDT);
00:30:00 Thur. Sept.3rd 2020 (EDT);
04:30:00 Thur. Sept.3rd 2020 (GMT).
Home:
http://www.heyshell.com/cot/
Forum:
http://bbs.heyshell.com/forum.php?gid=1
BuyPoints:
http://www.heyshell.com/pay/
Facebook:
https://www.facebook.com/ClashofThreeKingdoms