Lord and ladies,
the solicitation of Defeating Lu Xun
has ended
with great achievements, sincerely thanks for all of you great support and brilliant ideas. Especially for your generosities of sharing this to all of players. Here, on behalf of our COTK team, thank you! And the award list are as follows.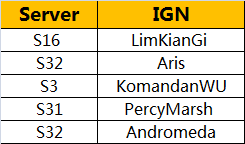 Here is the choice strategy for defeating Lu Xun:
| | | |
| --- | --- | --- |
| Server | | |
| S3 | | |
| S32 | | |
| S16 | | |
Recently, many players have been asking
how could they defeat Lu Xun
.
So, we decided to launch this activity to collect excellent ideas from TOP players. We sincerely welcome YOUR participation on this event and at the same time, players
who could put forward best suggestions willbe rewarded with generous gifts

.
Here are some brief introduction about our incredible and handsome hero:
Hero Talent:
Plains Capacity + 25%
Outstanding Skill:

Burning Fire which attack 3 rows of enemies and setsfire 5 times to 1 row on the earth to burn enemies in the following round

.
What's more,
even reduce enemies in a row by 30% from afully-recruited size
.
What are you waiting ? Come and get him!
[Time]
Ends on Sep. 22nd, 2015
1. During the event, pls
send your thread
to the
Game Discussion
in our Forum ,and
reply the link of your Strategy below this thread
2. Write about
more than 200 words
and if some pictures attached below,that would be preferred
3. The strategy in the reply link will be checked at the first.
4. The content you write should only relate to the information of
how to defeat Lu Xun
5. Plagiarism is severely prohibited, if any resemblance, the first one would be adopted.
1.Standard format for Thread in Game Discussion:
[Strategy][Server IGN]Your Title
E.g.[Strategy][S1. XXXX]Easily defeating Lu Xun
2.Standard format for reply in this thread:
Server, IGN, link of strategy post
Suggestions provided by players will be read carefully. In addition, We'll select
top 5 as the most valuable articles
who will receive
300 gold as rewards
when the event ended. Meanwhile, these strategies will also be gathered and shared in our official website.
1.Any participants should reply strictly in accordance with the Format required by this event.
2.Any posts inconsistent with the requirement will be considered as disqualification.
3.Repeatedly posts could be permitted to submit for players using the same character, butthey will not be rewarded repeatedly, namely, each and every character could only obtain one gift